Skilled Nursing and Rehabilitation
Stine Short-Term Rehab Unit and Spurgeon Rehab Therapy Center
Spurgeon proudly offers both short-term residential and outpatient rehabilitation services as part of our extensive Continuum of Care Community.
Short-Term Rehabilitation
Round-the-clock medical care ensures that patients receive the attention they need to manage their health conditions. Our rehab services include physical, occupational, speech, and other therapies to help them regain their strength and independence.
Benefits of Short-Term Rehab:
Higher chance of successful recovery
On-site services for all therapies ordered by your physician
Structured and supportive environment to help focus on recovery
Reduced risk of complications
Social support by connecting with others who are going through similar experiences
Outpatient Rehabilitation
Outpatient medical rehab offers several benefits for patients who require rehabilitation services but do not need to stay in a hospital or other inpatient facility.
Benefits of Outpatient Rehab:
Flexibility to schedule appointments that fit your schedule
Generally less expensive than inpatient rehab
Continued support from a personal network of family, friends, or other community members
Can be integrated with a patient's ongoing medical care and a more coordinated approach to their overall health
Regain independence and improved quality of life by reducing pain, improving mobility, and increasing strength and flexibility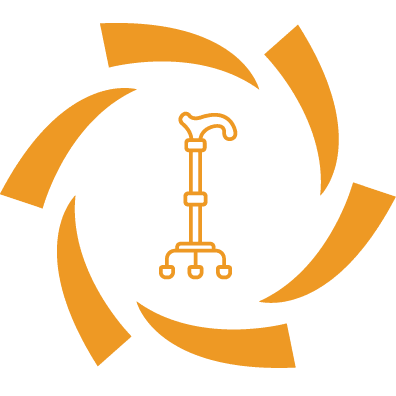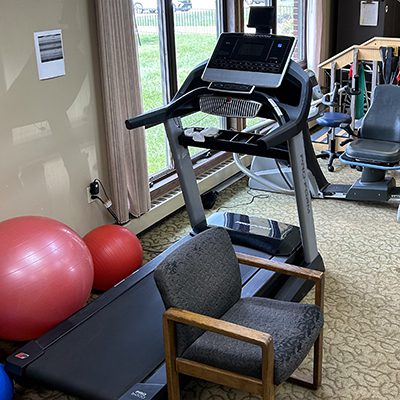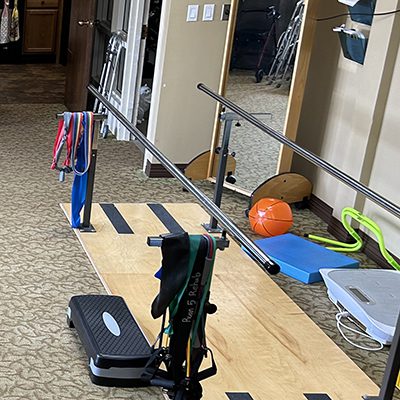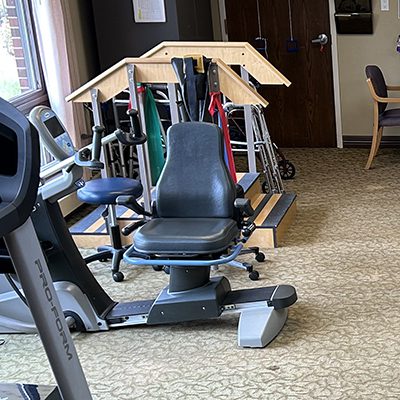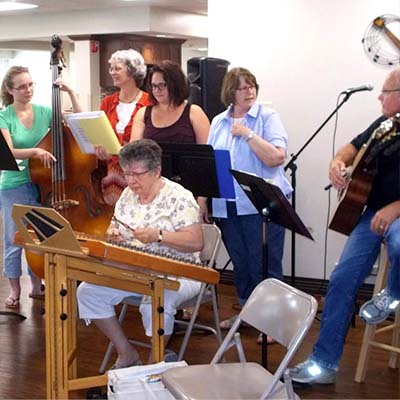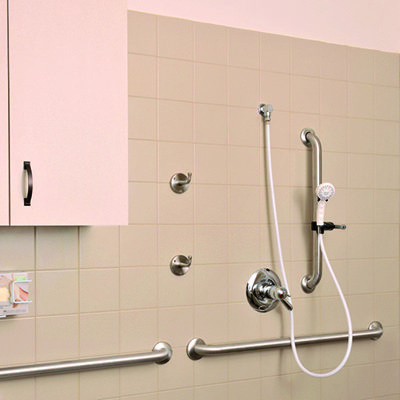 Stine Short-Term Rehab Unit
Rehabilitation Therapy Center
Short-term residential rehabilitation (rehab) at Spurgeon's Stine unit provides comprehensive therapeutic care for those who require intensive medical care and support for their recovery.
Features:
Private room
Private bathroom
Television
Electric bed
Chest of drawers
Bedside table
Chair
Window covering
Emergency call button
Other personal items as space permits
Basic Services:
24/7 care (RNs, LPNs, CMAs, and CNAs)
Medicare certified
Medical Director and providers on-site throughout the week
Social Services Coordinator available to help with issues related to admission, residency, and discharge planning
All meals (seasonal menu)
Snacks
Daily housekeeping
Daily laundry
Additional Nursing Care Service Fees:
Special needs such as wheelchairs, walkers, special mattresses, oxygen, and therapies are charged separately
Medical supplies, dressings, incontinent supplies, and catheterization are charged separately
Community Amenities:
Connected to Raccoon River Valley Recreation Trail
Beautifully landscaped campus in a rural setting featuring a secure access courtyard for our memory care residents
Spiritual Care: Worship services, devotionals, rosary, and communion
Daily social activities: Activities Calendars
Chapel
Library
Fitness Equipment
Transportation: The activity department schedules various outings throughout the month and provides transportation in our 20-passenger bus
Business office: Open Monday through Friday to accept payment for bills, give change, and sell stamps
Supplemental Onsite Services
(These services are available for an additional fee)
Beauty Salon: Our licensed beautician provides haircuts, styling, permanents, shampoos, and sets twice a week.
Podiatry: Central Iowa Foot Clinic provides care on a quarterly basis. Fees for these services are billed to your insurance provider.
Laboratory: Mercy Labs provides services when ordered by your physician. Fees for these services are billed to your insurance provider.
Rehabilitative Services: Licensed therapists from RehabVisions provide physical, occupational, and speech therapy services. Fees for these services are billed to your insurance provider.
Optometry: The doctors from Eye Care Associates provide eye care on an as-needed basis.
Transportation: Wheelchair-accessible vans are available by appointment for a fee.
Excellence, care, and compassion are the driving forces behind all services at Spurgeon Senior Community and our outpatient rehab therapies are no exception. Our therapy center is conveniently located onsite for our Spurgeon community members or those living in Dallas Center and surrounding areas.
Using our fully-equipped therapy room, licensed therapists from RehabVisions provide several types of therapy.
Outpatient Rehabilitation Therapies Include:
Occupational Therapy: Activities to increase independent function and prevent disability. Treatment may include an adaptation of tasks or environments to achieve maximum independence and enhance the quality of life.
Physical Therapy: Activities to treat disease or injury by physical and mechanical means. Therapists plan and administer prescribed physical therapy treatments for patients to help restore their function and strength.
Speech Therapy: Therapeutic treatment to help overcome communication conditions such as aphasia, swallowing difficulties, and voice disorders.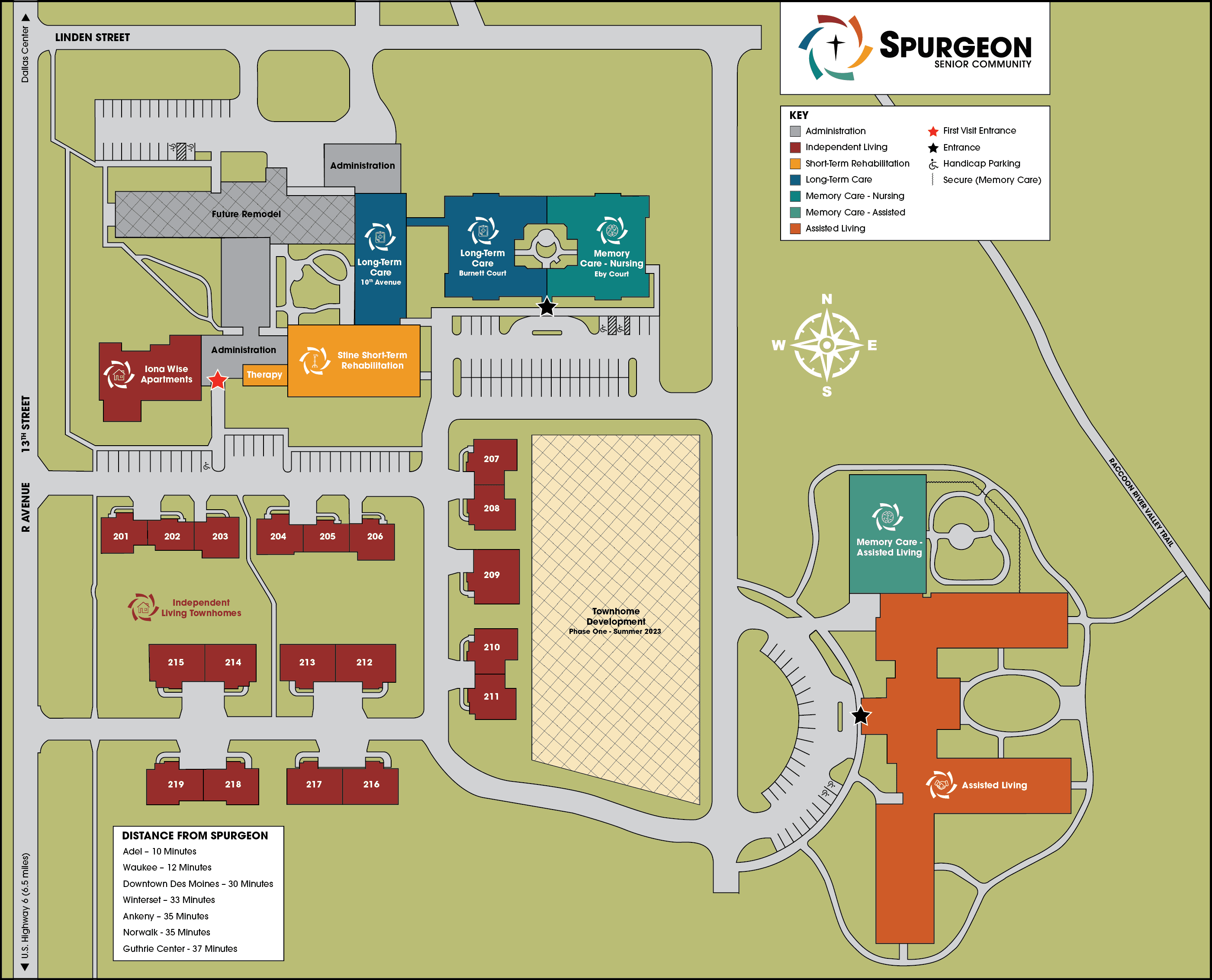 1204 Linden Street
Dallas Center, Iowa
50063
Spurgeon Manor Main Entrance